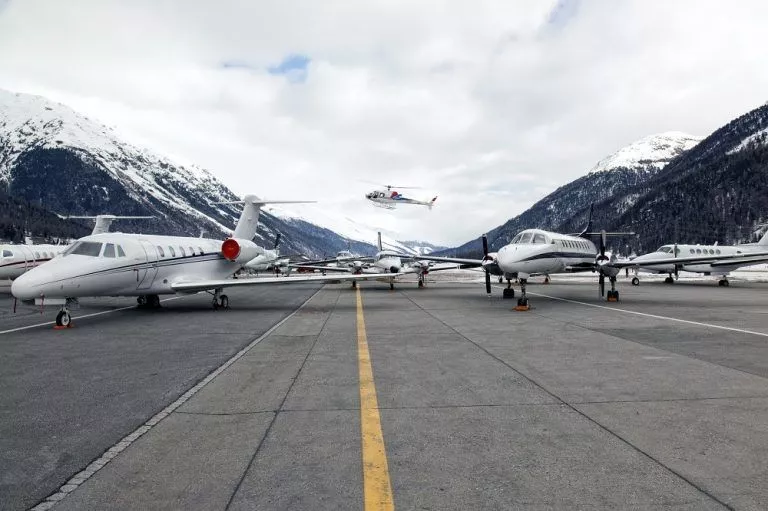 With money comes happiness. The jury is still out on how true this statement is.
However, with money comes with private jets. And with private jets comes access to some locations that you couldn't get to with your average airline.
In this article, we'll have a look at the most popular private jet destinations. In fact, some of these places you can only get to with a private jet!
1. St. Moritz, Switzerland
St. Moritz in Switzerland is the skiing paradise of the elite, with royalty and A-list celebrities visiting it year-in-year-out. While you can visit without a private jet, it will take you 3 hours by car from Zurich. Whereas if you fly into Samedan Airport it will take a meer 15 minutes!
Samedan Airport can't accommodate commercial aircraft due to its short runway, in fact, even larger private jets can be turned away if the conditions aren't good. Located at an altitude of 2000m you're guaranteed to have fantastic views coming in, and with what's on offer you'll definitely have a great holiday at St Moritz.
2. Norman's Cay, The Bahamas
Once a property of the Medellin Cartel, Norman's Cay is now a super-exclusive resort owned by the Four Seasons Hotel. It's so exclusive that you can only approach it by private jet or yacht.
As you'd expect there are beautiful views, a fantastic environment, and plenty more. In fact, you can even do some treasure hunting and maybe run into some hidden stashes of money or drugs.
3. Sint Maarten, St. Barts & Anguilla, Caribbean
The Caribbeans are packed full of fantastic travel destinations. Its islands are some of the most beautiful in the world, and are known globally. So it's no surprise that Sint Maarten, St Barts, and Anguilla are among the most popular destinations.
While Sint Maarten does have a commercial landing strip, the other two are only accessible via boat or a private jet. These millionaire playgrounds are packed with beautiful beaches, gorgeous lagoons, and much more. If you want an extremely relaxing holiday then look no further.
4. Faroe Islands
The Faroe Islands are hidden within the Arctic Circle and is one of the best places to catch the northern lights. With 18 major islands and plenty of minor ones, there are plenty of dramatic and breathtaking views to experience.
The island inhabitants have some extremely interesting, albeit controversial, traditions too, therefore you can experience views and culture in a single trip. Flying into Varga Airport is an experience in itself, just make sure that you dress correctly for the environment.
5. Paro, Kingdom of Bhutan
The airport in Paro is one of the most dangerous in the world. It's located 2,225 meters above sea level and surrounded by the Himalayan mountains. In fact, the land strip can only be seen during the last few minutes of landing and involves a sharp left turn as you approach.
It's not surprising that it only 8 pilots are licensed to land here. If you're looking to experience an amazing flight, and one-of-a-kind views of the Himalayas then this is your spot.
6. Easter Island, Chile
Easter Island is a popular destination due to the Easter heads. These sculptures have intriqued people for centuries and visiting them is a unique opportunity. Unfortunately, they are a bit harder to get to then Stonehenge. However, once there, Easter Island is a sight to behold.
7. Telluride, Colorado
Telluride is the American equivalent of St Moritz. Similarly, it's a place where commercial flights won't take you, but of course, you can go there by car. This is exclusive ski town will provide you with fantastic views of the San Juan mountains and days of skiing pleasure.
8. Ibiza, Spain
Ibiza is probably the party center of the world with 24-hour clubs, pool parties, discos, and live music. So what better way to truly party then to arrive in style via a private jet. No European summer is complete without spending a week partying and relaxing at this world-famous destination.
9. US Virgin Islands, Caribbean
Similarly to the other Caribbean destinations, the US Virgin Islands is a great spot to fly to with a private jet. While it's often due to the off-shore banking benefits it provides for business, it's also filled with plenty of history and culture.
10. The United States
The United States sees some of the heaviest private jet activity. Not only due to the wealth of the country but also due to the amazing experiences one can have. Whether it's from New York City to Palm Beach or to Los Angeles, the US has a lot to offer. US residents also have the advantage of more companies to choose from and cheaper private jet charter services.
Conclusion
Private aviation is something many of us dream of but will never be able to afford. However, private jet routes and flights are becoming more common and affordable so it's actually a dream we can work towards.